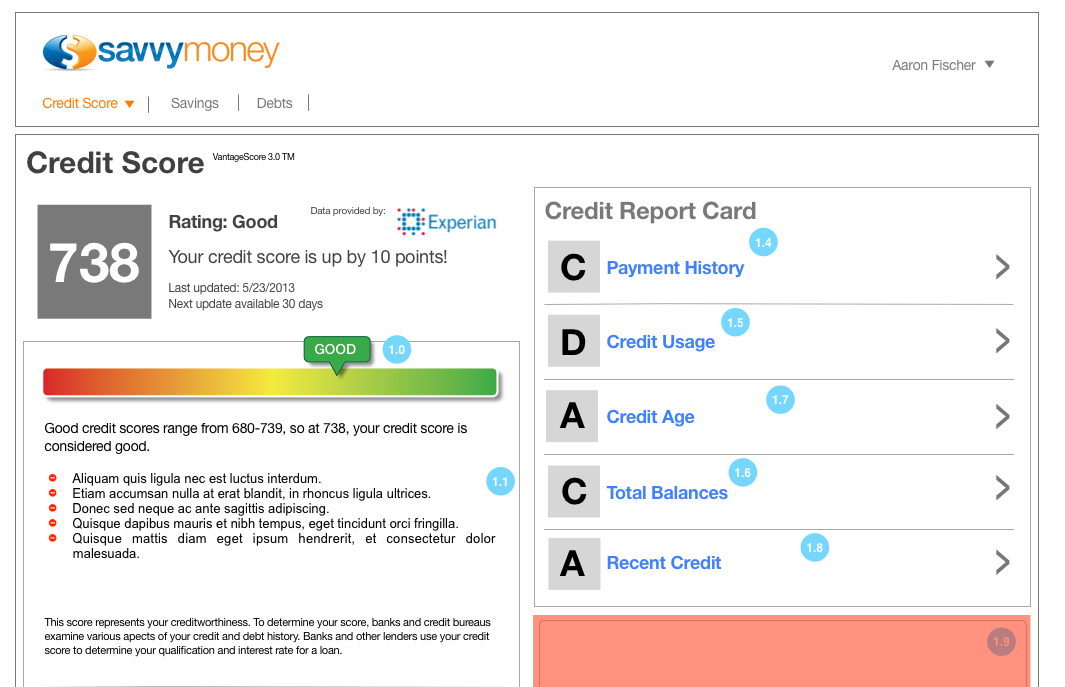 SavvyMoney Credit User Experience
SavvyMoney Credit is a new credit score product version 1.0.  The goal of the project was to create a stand alone  v1.x credit score product that 1) would help consumers manage their credit score 2)  be sold to credit unions as a stand alone and integrated credit score product for the credit union members; and 3) be integrated into the SavvySomething.com website. On this project I played a dual role as a Lead UX designer and a product manager. I wrote the product requirements, brainstormed with key executive stakeholders, designed the concept designs and got executive approval, lead the user experience design for the project and worked with engineering leads to develop the product.
My primary deliverable for v1.0  were wireframes and UX specifications. We hired a contract Senior Visual Designer to give us a new look and feel for v1. My key part was providing art direction and management of the visual designer so that we could get mockups, a style guide and a CSS sheet. For 1.1 and 1.2, I took over the visual design iteration. Omnigraffle, Illustrator and Photoshop were used to create the wireframes. The key audience for the deliverables were the software engineers and the executives. The wireframe document was a living document, as it was constantly being updated based on scoping of features, version, etc.
The credit score product was comprise of  5 key components: Registration, Credit Score, Credit Report Card, Debts and Offers.
Credit Score
The credit score page was the main page. The user would learn about their credit score and get a report card overview of the key characteristics of a credit score.
Credit Score Page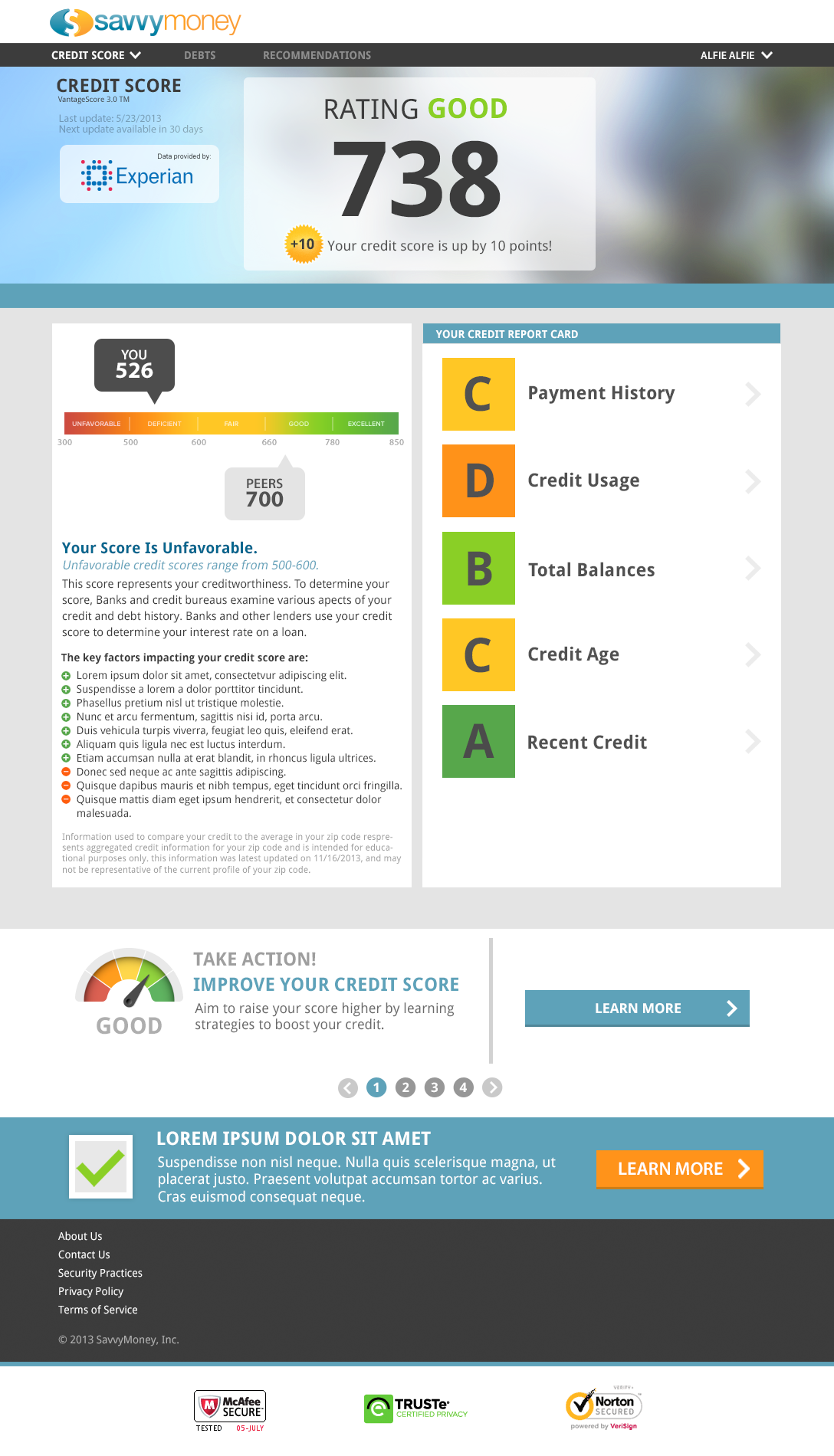 Credit Card Report Card
The second part of the design was the grade report card, that was comprised of 5 key characteristic, each defined by specific attributes that contributed to the grade weighting and the percentage of each characteristic that comprises the total credit score. For this I defined a UX pattern that could be reused for the 5 characteristics.
Credit Report Card Template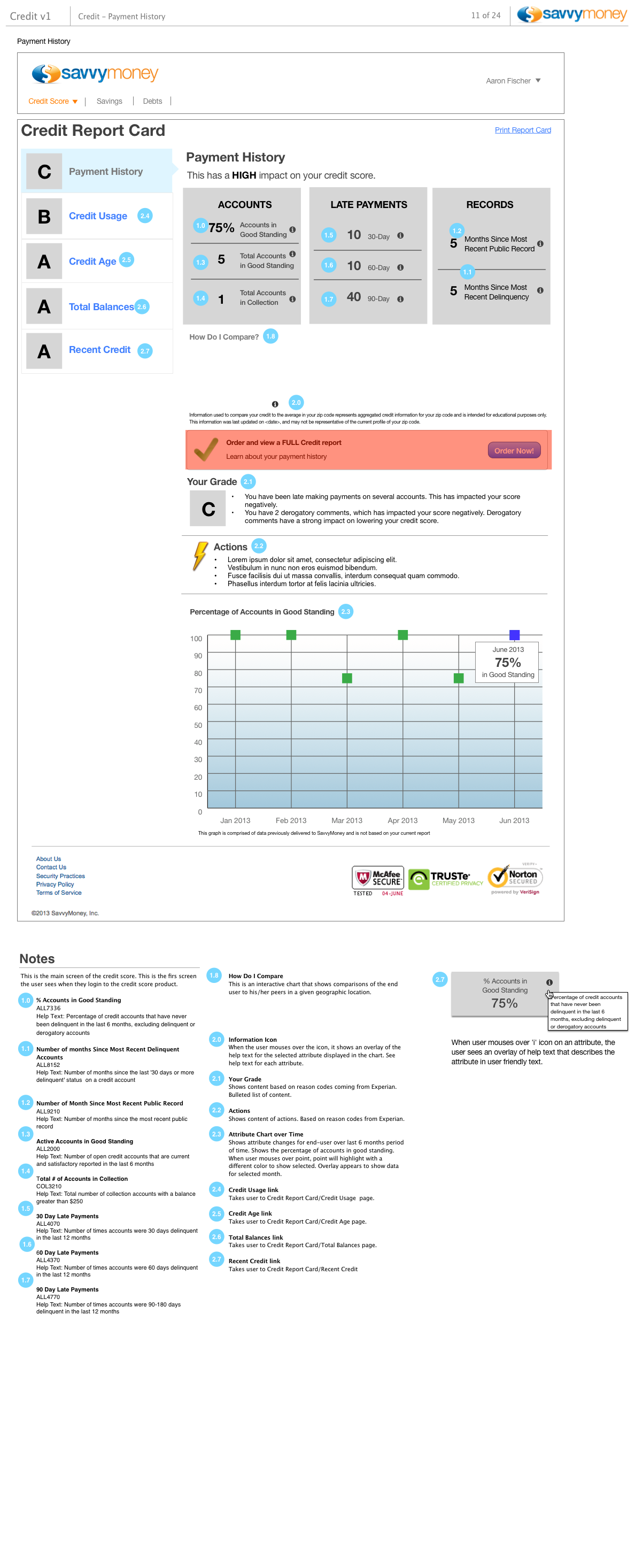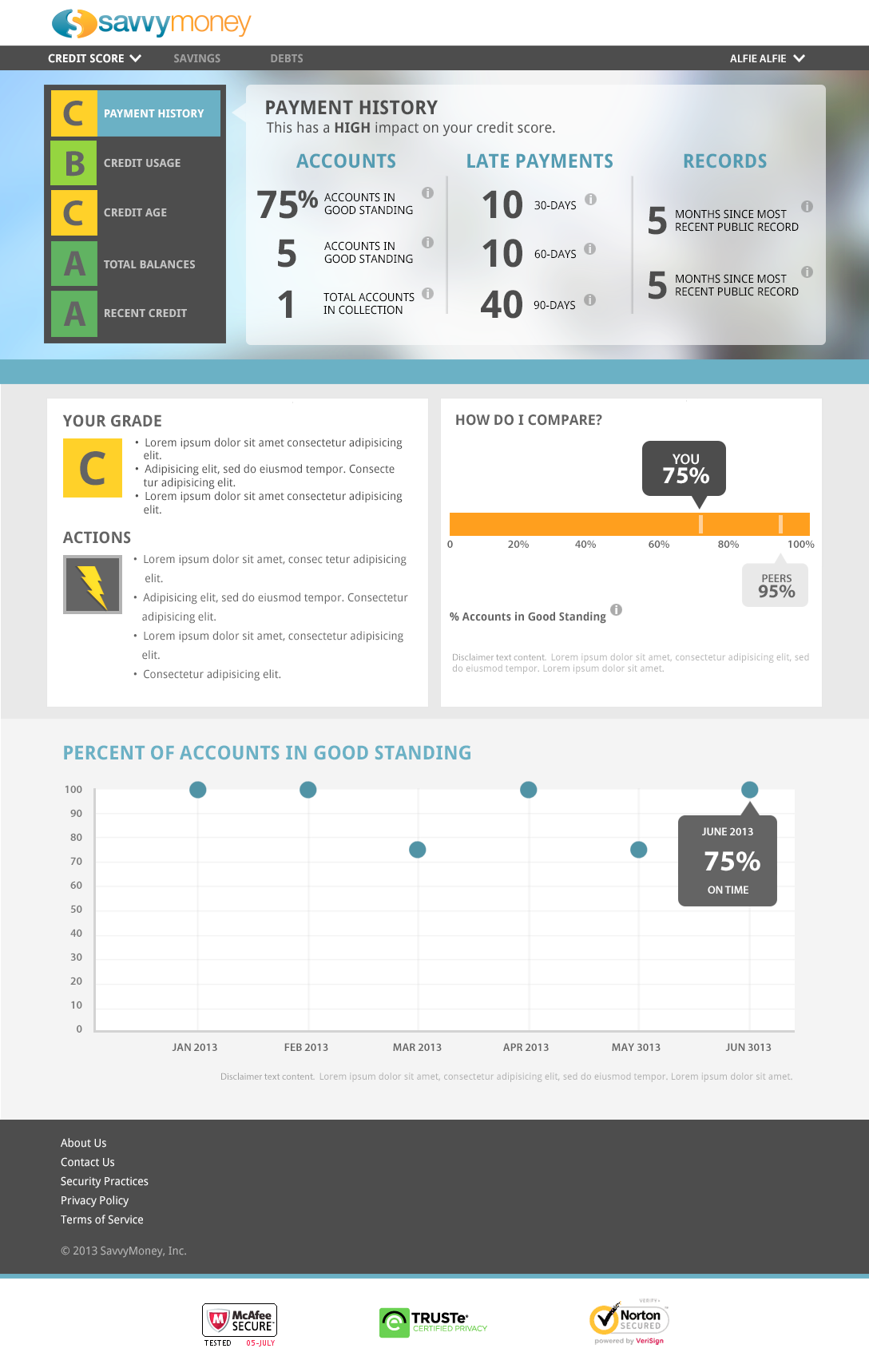 Offers
The credit card and loan savings recommendations were prequalified for the user based upon their credit score. The user would receive personalized savings recommendations on the Credit Score page, and on the Savings/Recommendations page.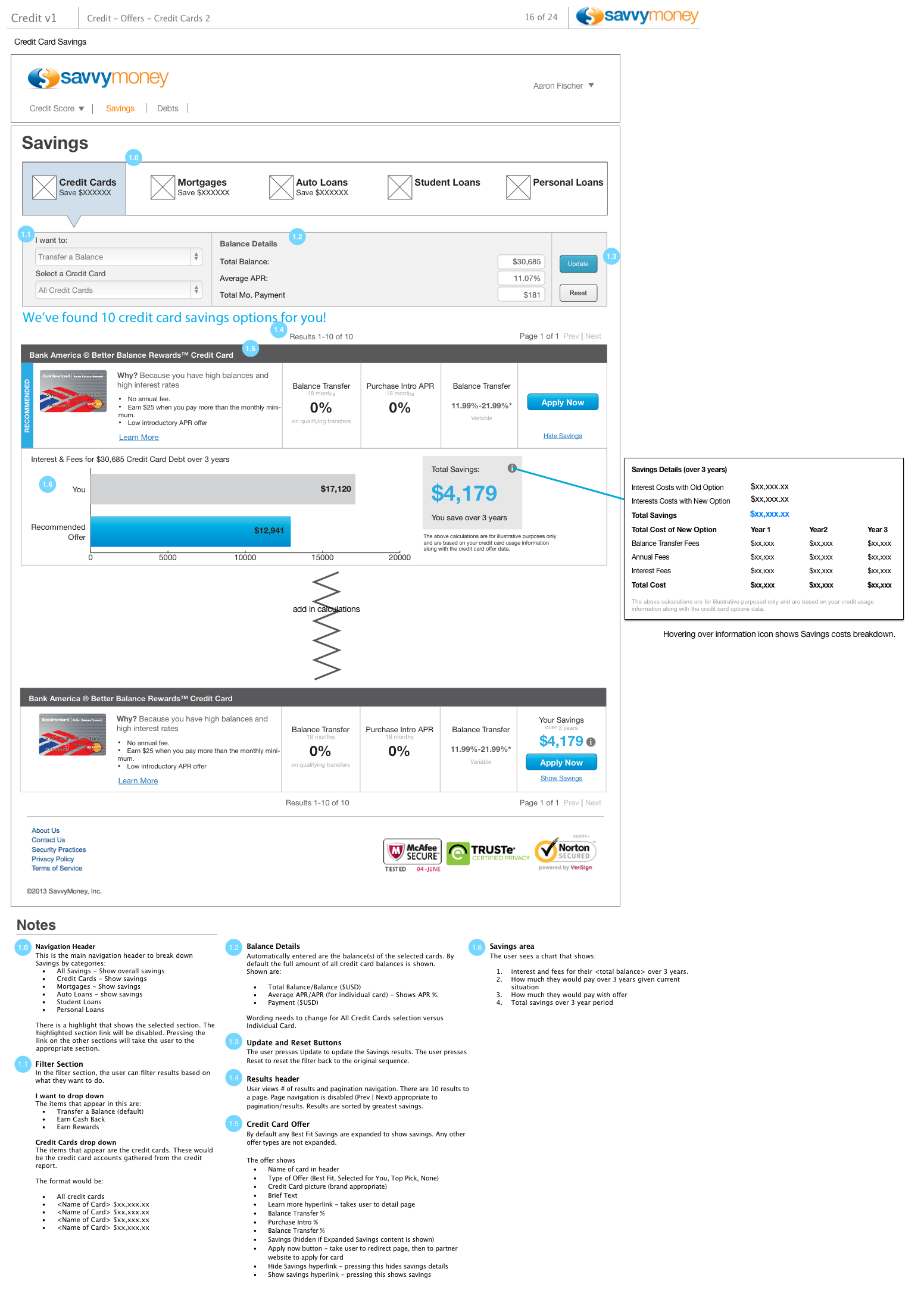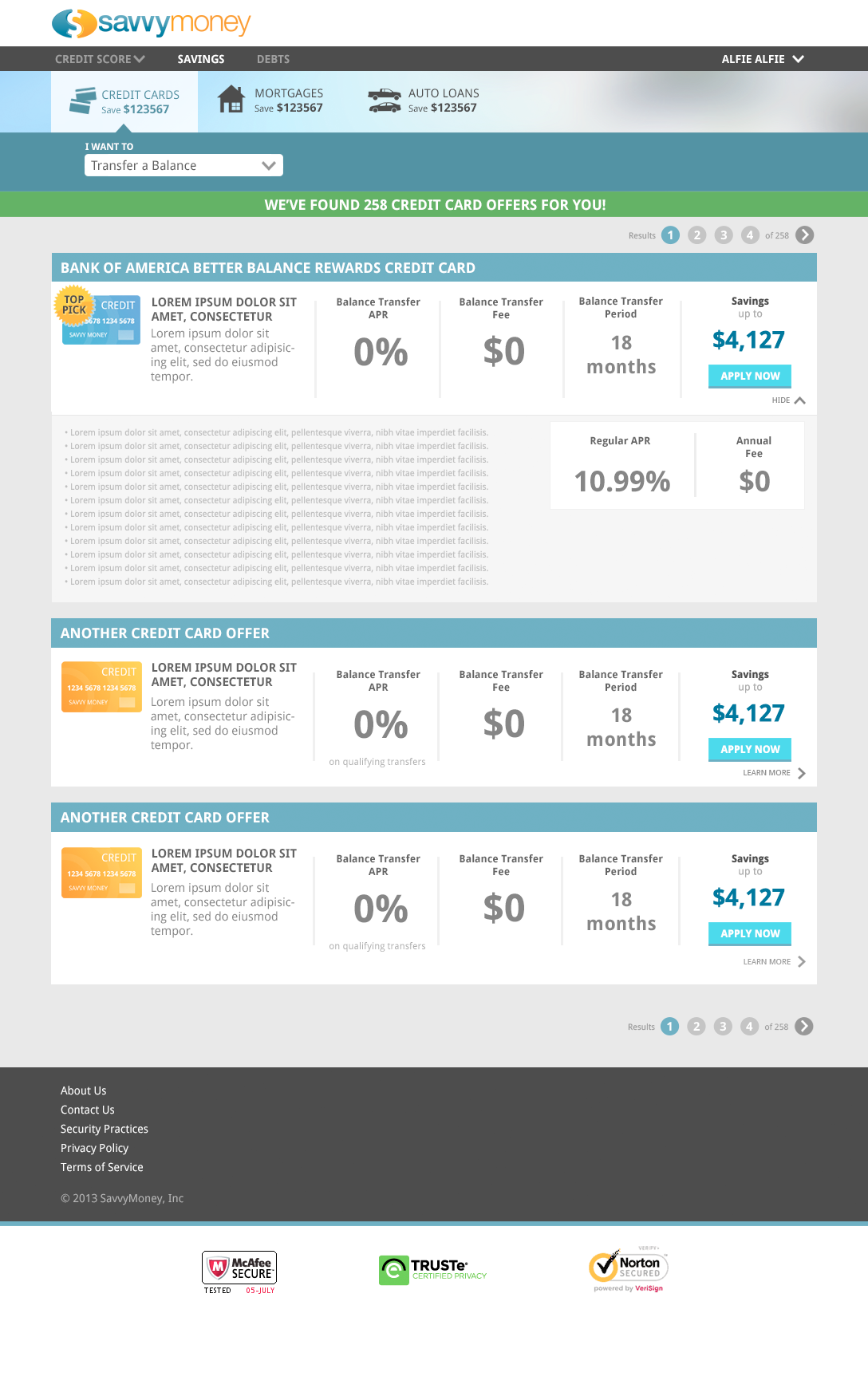 Debts
The Debts page detailed the person's debts (credit cards, loans, mortgages, etc) and provides recommendations on how to pay down the debt faster (ie, balance transfer, get a debt plan, etc).